When we chose CLIC Sargent as the Morrisons charity partner in February 2017, our Devizes store Colleague Carol Lee couldn't have imagined that just months later her baby grandson would need their support.
But in June, Rory Holloran, then just two months shy of his second birthday, was diagnosed with acute lymphoblastic leukaemia. His family were left devastated as the tot was rushed to John Radcliffe Hospital in Oxford to start a gruelling chemotherapy regime.
#GivingTuesday takes place this week on 28th November. Please give what you can - whether it's a bunch of flowers, a pound at the till or a few hours of your time to help us help CLIC Sargent.
Rory's mum, Hannah, said: "The feeling of hearing Rory had leukaemia was just unlike anything else. My stomach just dropped. I just felt numb. I had just been looking at my baby boy, and suddenly I was looking at my baby boy with cancer. I thought "why him?'
"Rory was perky when we arrived on the ward. He had had a blood transfusion, so he was full of beans. I took him into the playroom, and I saw a little boy in there who was really pale with no hair and he had a huge scar right across his head. I just burst into tears. It was as if at that moment I realised this was what we were in for."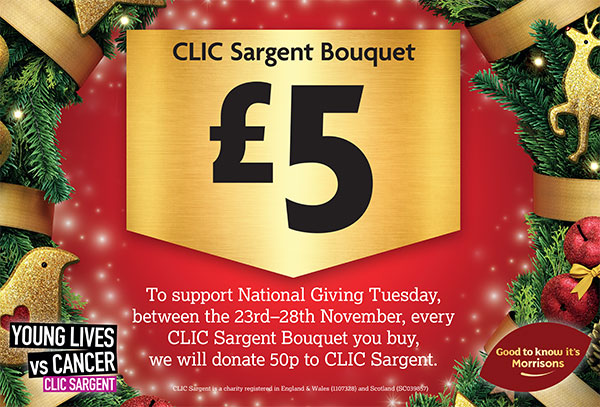 Rory stayed in hospital, a two hour drive from the family home, for three weeks before being sent home. But bouts of fever meant he was repeatedly readmitted, and Hannah and Rory's dad, Matt, faced weeks away from each other.
That is when CLIC Sargent stepped in. The gave the family a £170 grant – paid for through Morrisons fundraising – and gave Matt a room to stay in at CLIC House, the charity's free Home from Home service just a stone's throw from the hospital.
"We met a CLIC Sargent social worker called Sheila, and she was amazing" added Hannah. "She helped get Matt in CLIC House which was a huge help because I missed him as well. We were at the stage where we thought we were going to lose our baby boy – we needed each other as much as Rory needed us.
"Occasionally the nurses let Rory leave hospital for a few hours and we would just sit on the sofa in CLIC House in front the TV, doing normal stuff. We felt extremely lucky to be able to do that."
Rory faces months of chemotherapy to fight the cancer before he can start the maintenance phase of treatment. But that hasn't stopped him being centre-stage in the Devizes store's fundraising efforts, which have so far totalled £16,000 – more than any other store across the UK.
Help us to help CLIC Sargent - join us on Giving Tuesday, 28th November 2017.
Tuesday 28th November is 'Giving Tuesday', a global movement that encourages people to do help the charities they support continue their great work. Carol Lee, Rory's doting grandma who works nights at Morrisons in Devizes, said: "I have been with Morrisons since 1999, and I have seen us support many charities. But when Rory was diagnosed, our whole world changed. The support CLIC Sargent have given our family has been unbelievable.
"I have always been committed to fundraising for CLIC Sargent, but since Rory's diagnosis the store has had the push needed to really go for it".
Morrisons Devizes store Community Champion, Michelle Hawkings
Michelle, Community Champion, added: "There are lots of charities out there and every one is worthwhile. But I do think CLIC Sargent is particularly special. They don't just support the children and young people, they support the whole family. Rory is a very special little boy, but he is also a very poorly little boy, and his family are going through a lot of turmoil. What CLIC Sargent are doing for his family is providing a lifeline, and helping them cope. That is why we are proud to support them on Giving Tuesday, and every day."
How you can give on Giving Tuesday...
Choose to donate £1 at the till when you shop in store at Morrisons
Buy a CLIC Sargent Bouquet for £5 - 50p will go to CLIC Sargent
Buy a Christmas card at Morrisons - they'll donate £50,000 from sales to CLIC Sargent.
Make a donation by visiting the CLIC Sargent website
In the UK, Giving Tuesday is run by Charities Aid Foundation (CAF). Ben Russell, Director of Communications at the Charities Aid Foundation, said:
"It is fantastic that Morrisons and CLIC Sargent are joining thousands of businesses and charities in Britain and around the world urging people to do a good deed for #givingtuesday.
"Britain is one of the most generous countries on earth and whether it is simply giving a bunch of flowers or donating some money or a few hours to a cause you care about, #givingtuesday is a brilliant chance to give something back as the Christmas build-up starts getting into full swing.