Together, we are helping thousands of young people, children, parents and siblings cope with the devastating impacts of cancer - and the hidden costs of a diagnosis. Morrisons fundraising is raising money for CLIC Sargent at a rate of around £10,000 a day - but cancer doesn't stop, so we won't stop.
Today, 12 children and young people will hear the devastating news that they have cancer. But CLIC Sargent is there to offer guidance, practical help and emotional support. Since our partnership began in 2017, we have helped thousands of families cope by providing people, places and practical things...
People
Meet Aaron. He is just 3, but will need treatment for acute lymphoblastic leukaemia until February 2021. That means a two-hour trip on public transport to hospital for his mum, or an expensive taxi ride – weekly and sometimes daily.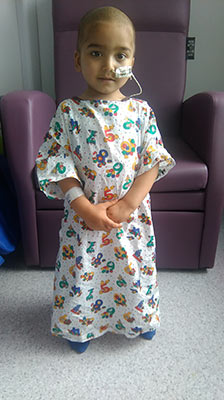 But thanks to Morrisons customers and colleagues, CLIC Sargent has created a brand new team of Nurse Educators who are training doctors and nurses in community hospitals to care for children with cancer. It means children like Aaron won't have to travel for miles to get to a specialist cancer centre, because he can be cared for at home or at his local hospital. The Nurse Educators have already trained almost 500 doctors and nurses.
Places
When a child or young person is diagnosed with cancer, they often have to be rushed to a specialist cancer centre to begin treatment at once. That hospital could be hundreds of miles away from the family home. Parents are left fraught, wondering where they will sleep while they are with their child, or how to balance family life with other siblings while so far away.
That's why CLIC Sargent has 10 Home from Homes located a slipper walk from specialist cancer centres across the UK. Families can stay free of charge in a homely space, with kitchen and laundry facilities, a living room and a cosy bedroom. It means the whole family can be together, and that means everything to a parent or young person on this journey. Thanks to Morrisons customers and colleagues, CLIC Sargent is opening these spaces up to more families who urgently need them.
Practical Things
CLIC Sargent knows cancer costs families on average £500 extra a month. Costs like travel to hospital (an average round trip of 60 miles) or hospital food start from day one. Some families even need to buy new clothes because of changes to body shape through steroid treatment. But money raised through our partnership is already giving families a break from worrying about their finances so they can concentrate on their child getting well. Through our fundraising, CLIC Sargent has given more than 4,000 grants to help families cover the extra expenses that start from day one. They have also provided 200 families with support to pay for their child's funeral – helping lighten the load at an incredibly difficult time.
The partnership has also enabled CLIC Sargent to expand its digital services so it can offer support and information to young people wherever they are. To see the brand new website, funded thanks to Morrisons colleagues and customers, visit clicsargent.org.uk
To find out how you can get involved with our life-changing partnership with CLIC Sargent, email Morrisons@clicsargent.org.uk or speak to your Community Champion in store.